Engine
The engine in this model is really well done, with many great fitting pieces that get assembled onto the typical split block engine that's standard for model cars. From there, things like mufflers, manifolds, and so on get attached to the block. The engine then received aluminum paint. Also pictured is the front differential drive, as remember this is a hybrid!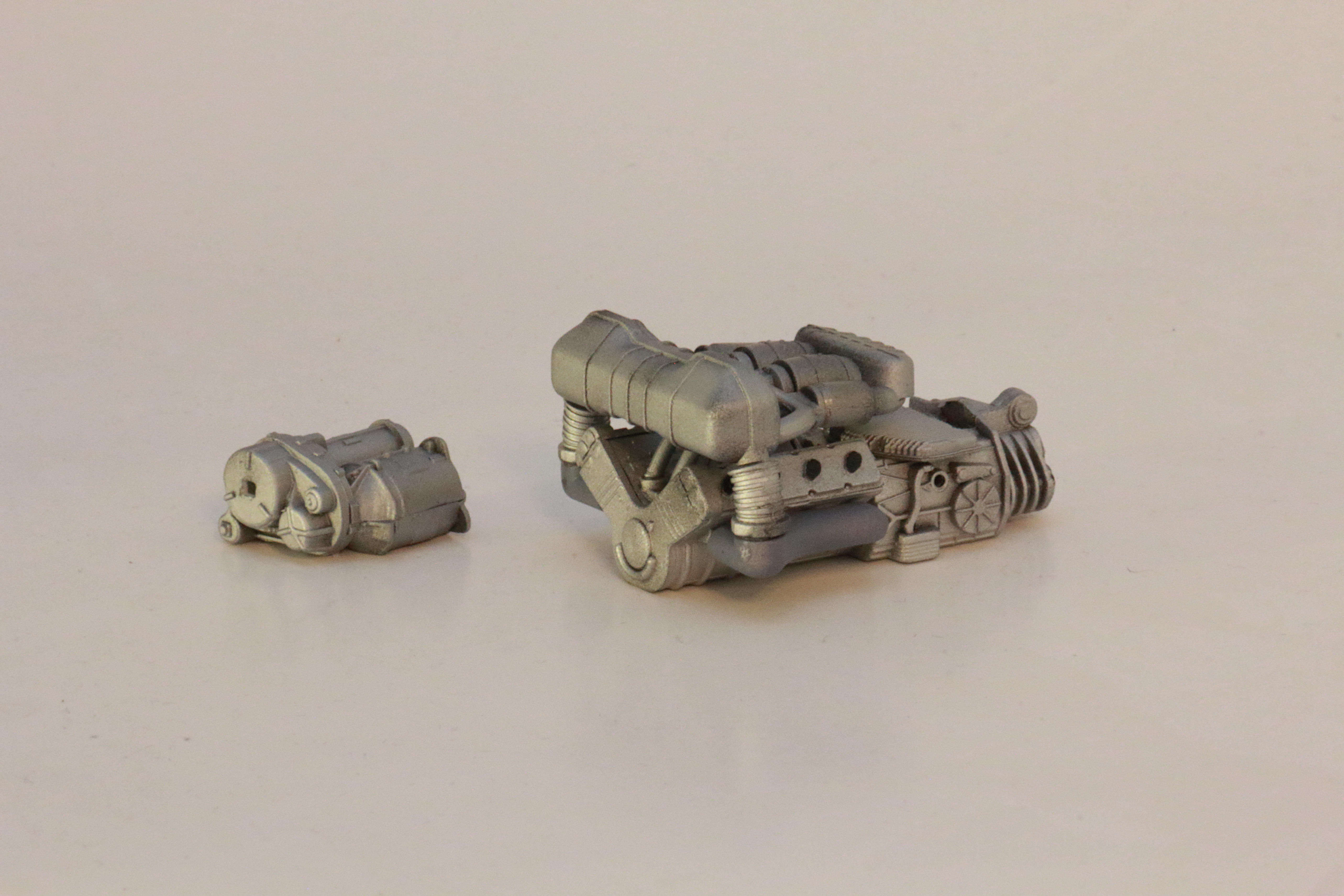 Suspension & Drivetrain
Building continued at this point with many suspension bits and pieces from springs to steering racks etc and all fit nice and snug and good to the lower frame of the body.
With all the suspension bits done the rims were painted gloss black and after a bit of drying time was wiped off the raised detail to reveal the chrome beneath. This was then clear coated and the wheels were mounted and installed onto the car.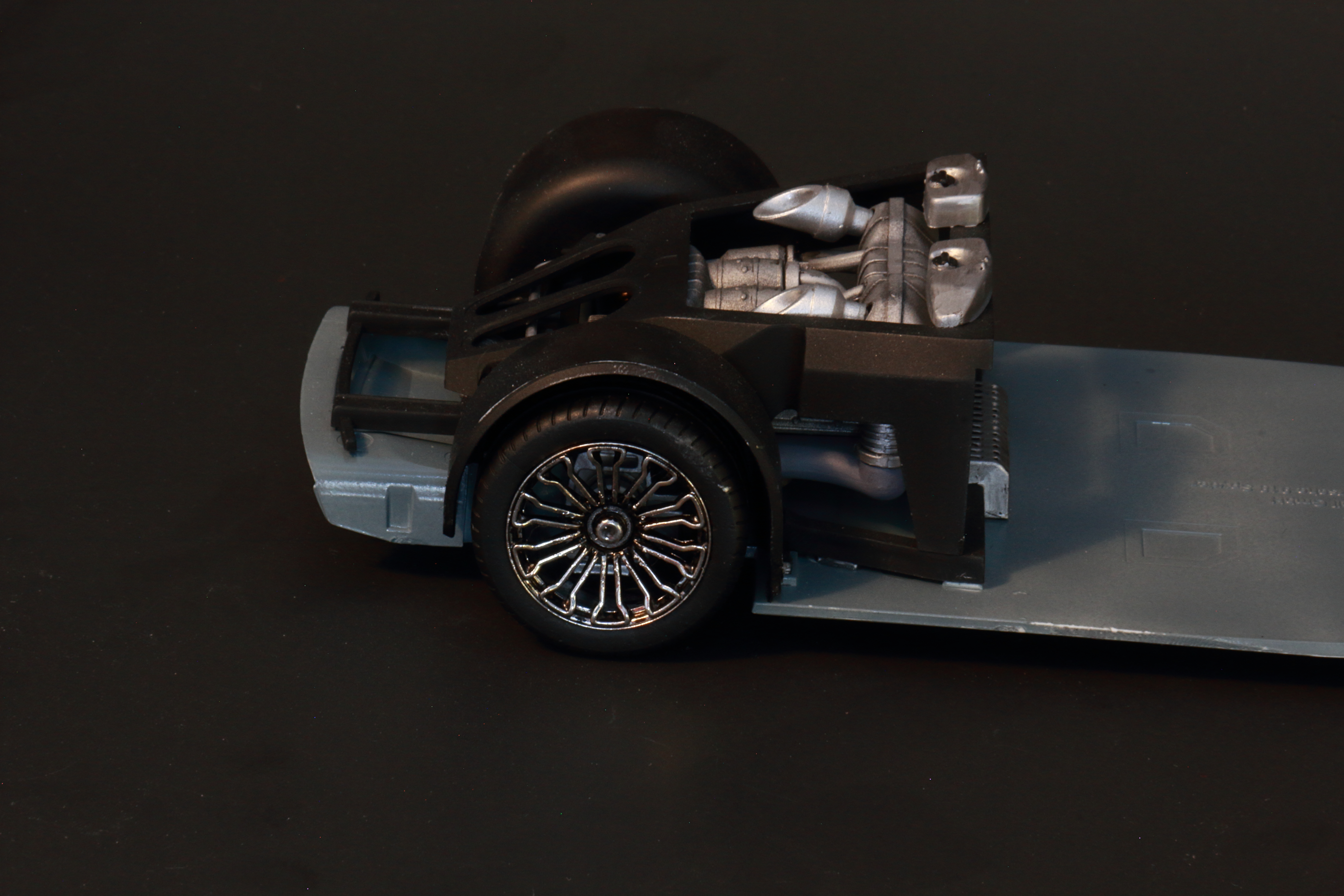 Interior
Construction of the car then proceeds into the interior before finishing out on the exterior yet again with a typical bathtub interior, from there various bits and pieces like the dashboard and control knobs etc to fit it. The seats are one piece on this model as the back of them isn't visible at all. Interior colors are mainly black with a few highlights here and there.
Decals were painful to place in a few locations, however, with some Mr. Mark Setter I was able to get this to conform nicely and after drying was able to cut back a bit where it overhung. The steering wheel had quite a few decals itself!
Once the decal work was done I was able to move to the final assembly of the interior, placing the seats in first, followed by the dashboard and then the center divider. Last to go on were the doors and the tight was great! Very snug.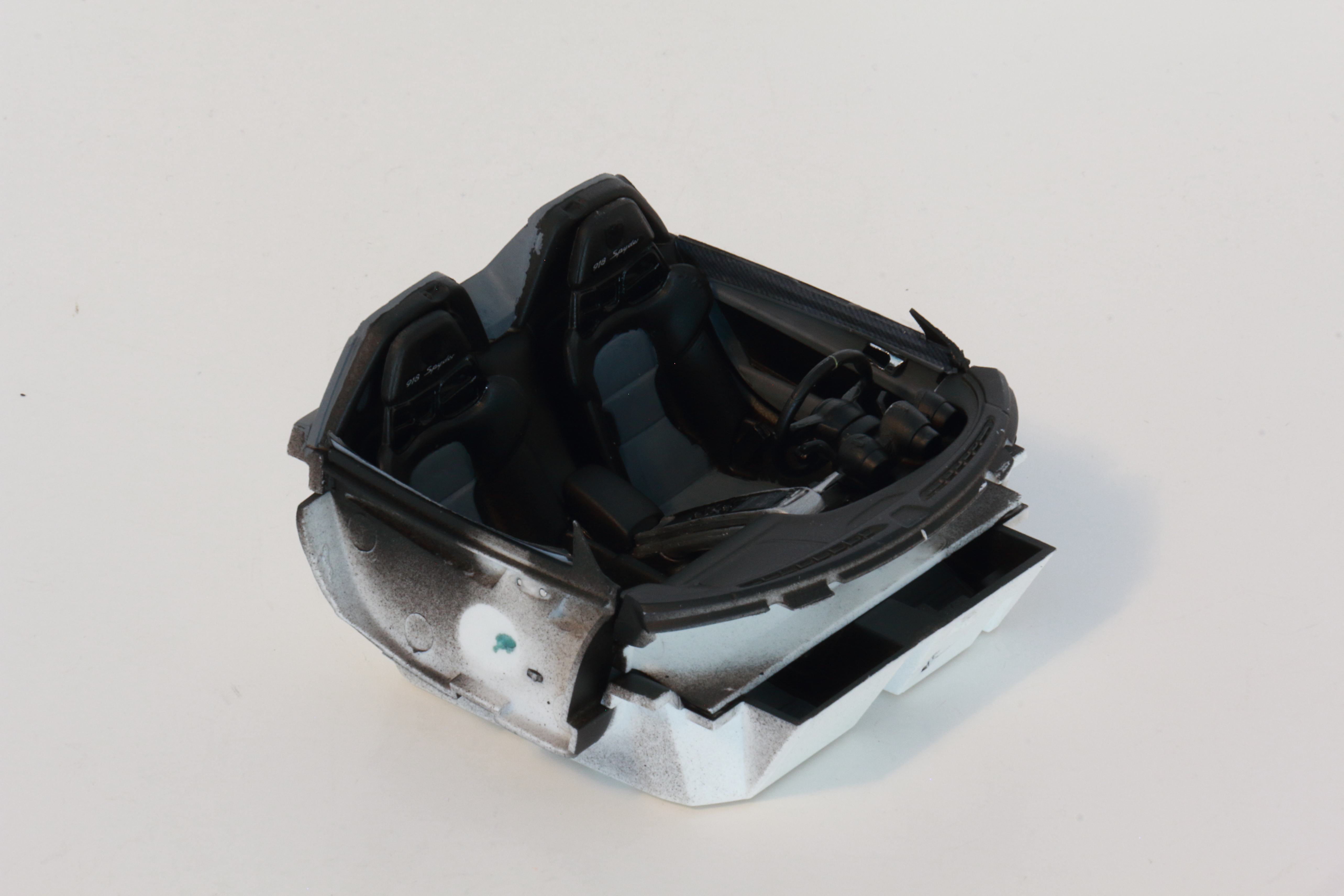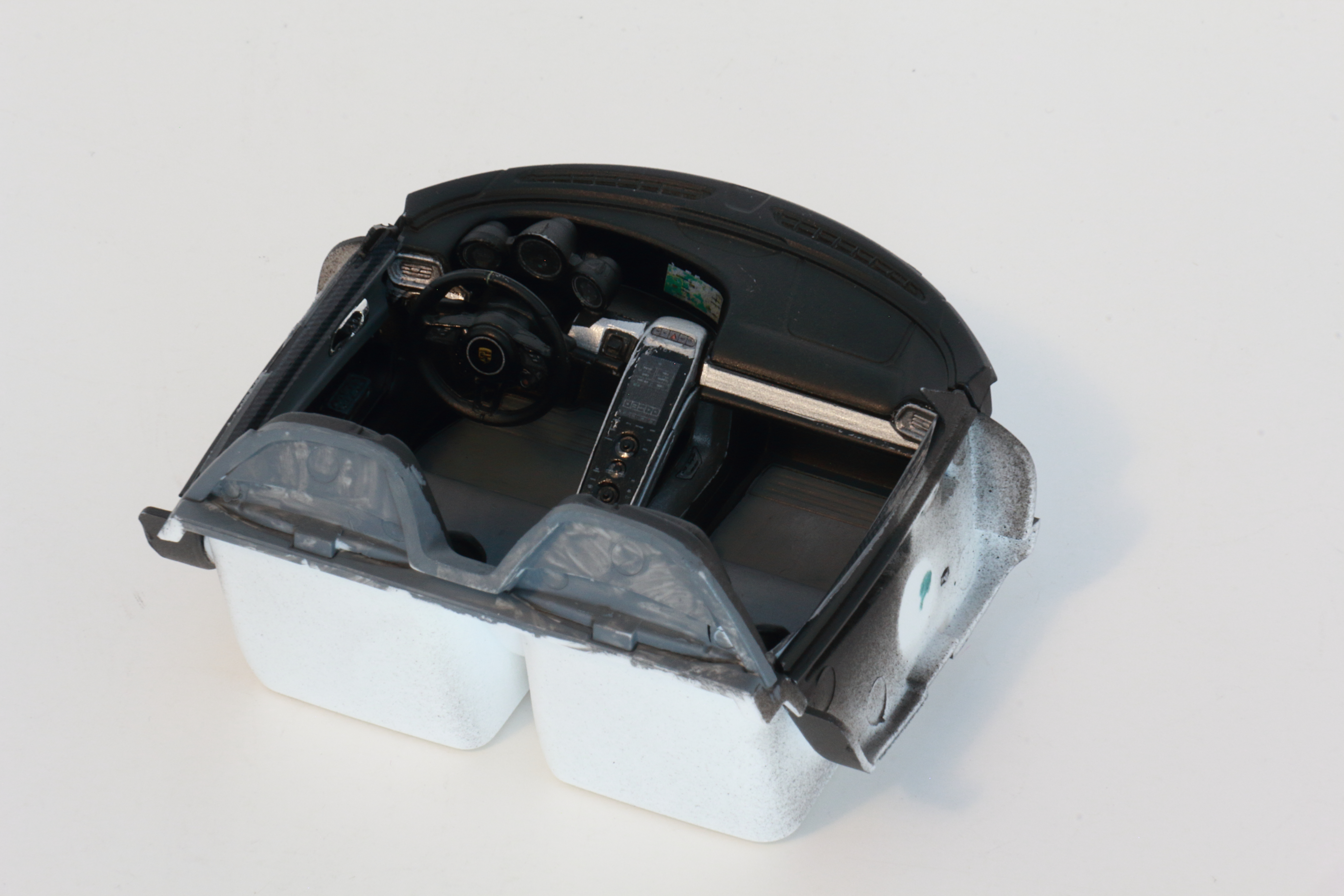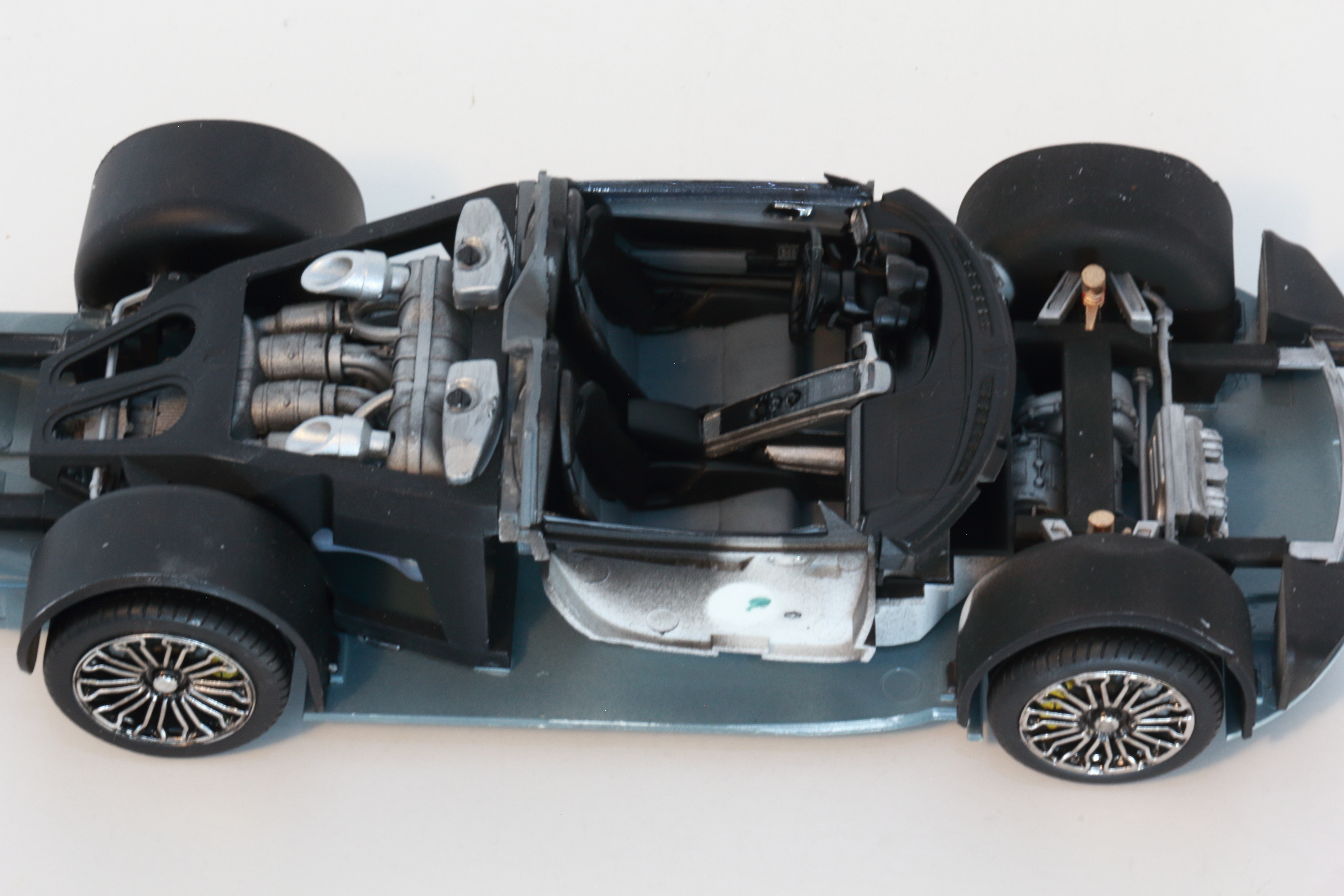 Body
The building of the model then progressed to the exterior of the car with the body being painted along with various things like spoilers, louvers, and headlights, etc. The body was painted a green color that has a lot of metallic flake to it. I wasn't so sure about it at first but it grew on me and I like the end result. Most of the rest of the detail is black, whether flat, semi or gloss. On the real car I'm pretty sure these details should be carbon fiber but never having seen one in person I can't say for sure.
Final Assembly
Once the body was painted the various pieces were added to the main part and this was then dropped into place over the interior and bottom of the chassis. From there the front and rear bumpers were fit on, these couldn't be fit and painted as one assembly due to the way they fit over the bottom for aerodynamics. The chassis had to be flexed a bit to get everything to line up but once the glue settled it was all fine and dandy