Chassis
Building this tractor starts out by joining the two halves of the main chassis/engine together along with the gauge cluster. To this various details such as battery, gas tank, and presumably, oil tank or hydraulic reservoir get added.
From there the front bumper and turbocharger get added to this.
Suspension
Next up on the assembly is the front suspension arm with its steering linkage. I chose at this point as well to add the front fender flairs as an option. The rear suspension arm goes together with ease, with a split axle to which the wheel hubs are attached along with the wheels.
Chassis Details
After building up both pairs of suspension these are added to the main chassis, with a few details added along the way such as steps and pedals. Also, a neat little touch is that the rear hitch includes detail such as the positionable locking pin.
At this point, I was given a few options again. the first being if I wanted to use the overhead bar on the rear attached to the fenders or not, as well as if I wanted just a simple mount on the left side fender or a bar seat for a passenger to ride along. I, of course, wanted this loaded with as much detail as possible and went with the seat and bar.
The seat is then added and again the builder is presented with a few options for this. I chose the old school all metal seat rather than the creature comforts of a padded seat. One thing I didn't realize till after the seat was attached was that it actually flips up! Neat!
After wedging a piece of chrome between the two hood halves this gets attached and assembly of the tractor is complete.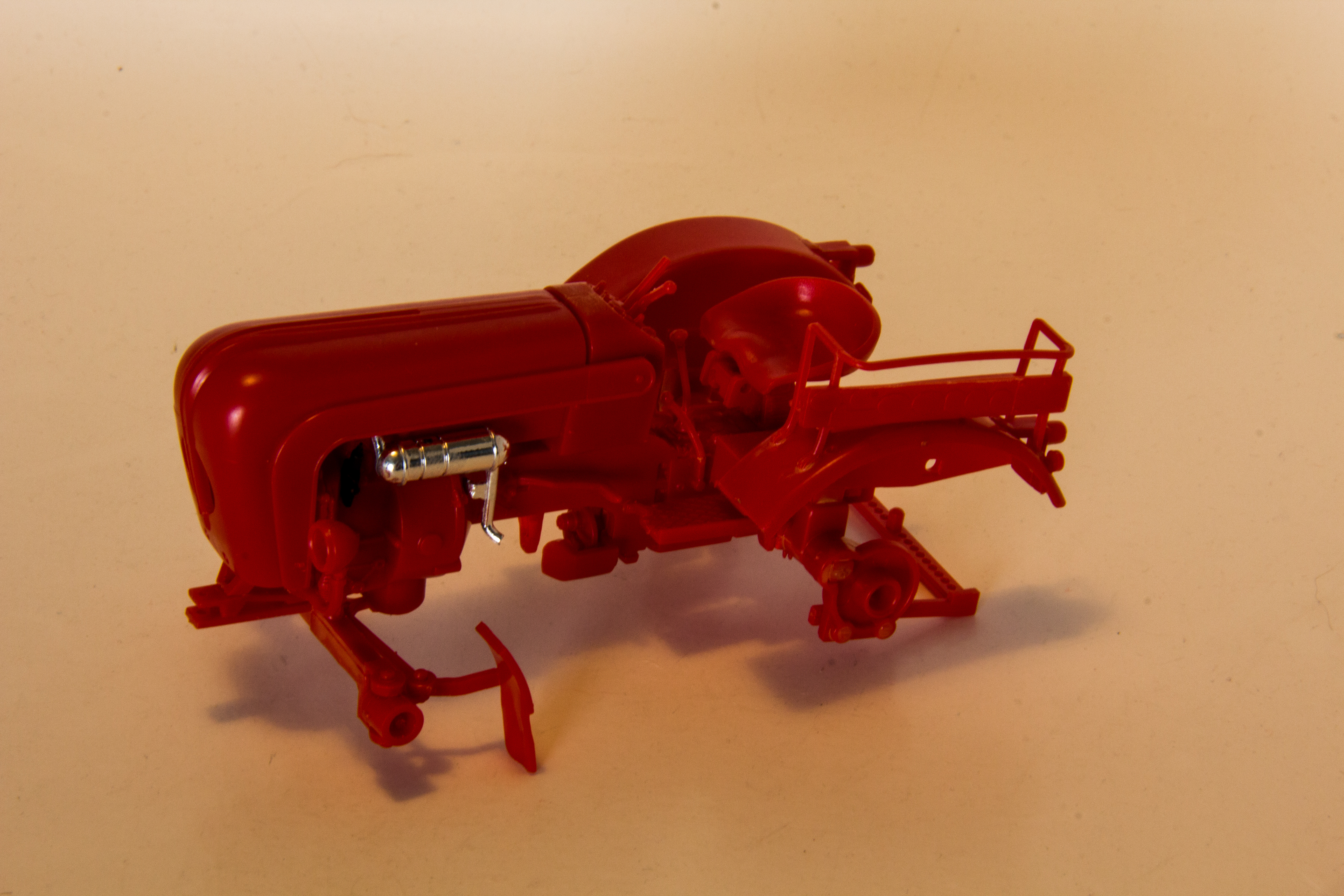 Paint
Having almost a full can of Tamiya TS-8 Italian red paint left from a previous model I thought it was a good opportunity to use it on this model as the instructions call for red anyways. The resulting red might have been a bit too bright for what I intended but I think the result looks good. With the main paint color on though I was then able to start painting the various details of the model, such as chrome bits and engine details.
There are a few parts that get painted in white which is a nice contrast to the overall red nature of this model.