C-54D "Skymaster"
| | |
| --- | --- |
| Started: 12/09/2021 | Updated: 12/10/2021 |
| Brand | Revell of Germany |
| Scale | 1/144 |
| Kit Number | 04877 |
| Year Released | 2015 |
| Scalemates | Link |
| Completed | Yes |
| Build Time | |
Cockpit & Interior
A fair number of pieces make up the cockpit of this beautiful model. WIth all of the seats, controls and such being separate pieces. I built up a bunch and then decided to paint, which i regretted but was able to work around and ended up with the result below.
From there the cockpit was attached to the bulkhead that formed the front of the cargo area of the model which in this case was where the front door and navigator was. All painting done as appropriate which in this case was zinc chromate green.
The next stages of the interior has crew bunking with a pair of bed mounted and a table next to on the other side of the walkway. Finally we move our way into the actual cargo hold, in this case troop seating was installed for their long journey into the battle. Sadly this part is concealed and barely visibile in the final model, but thats why there are pictures of it!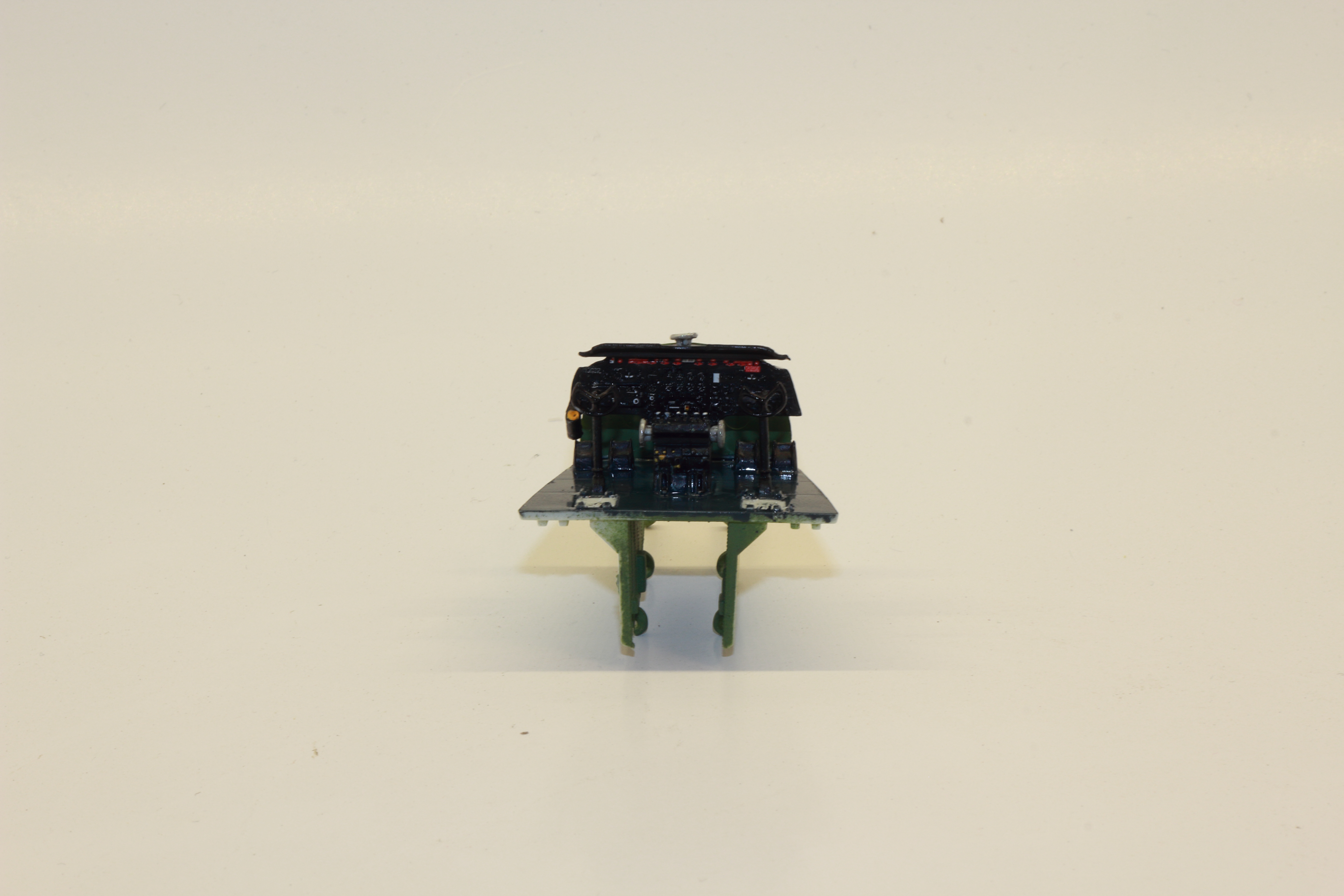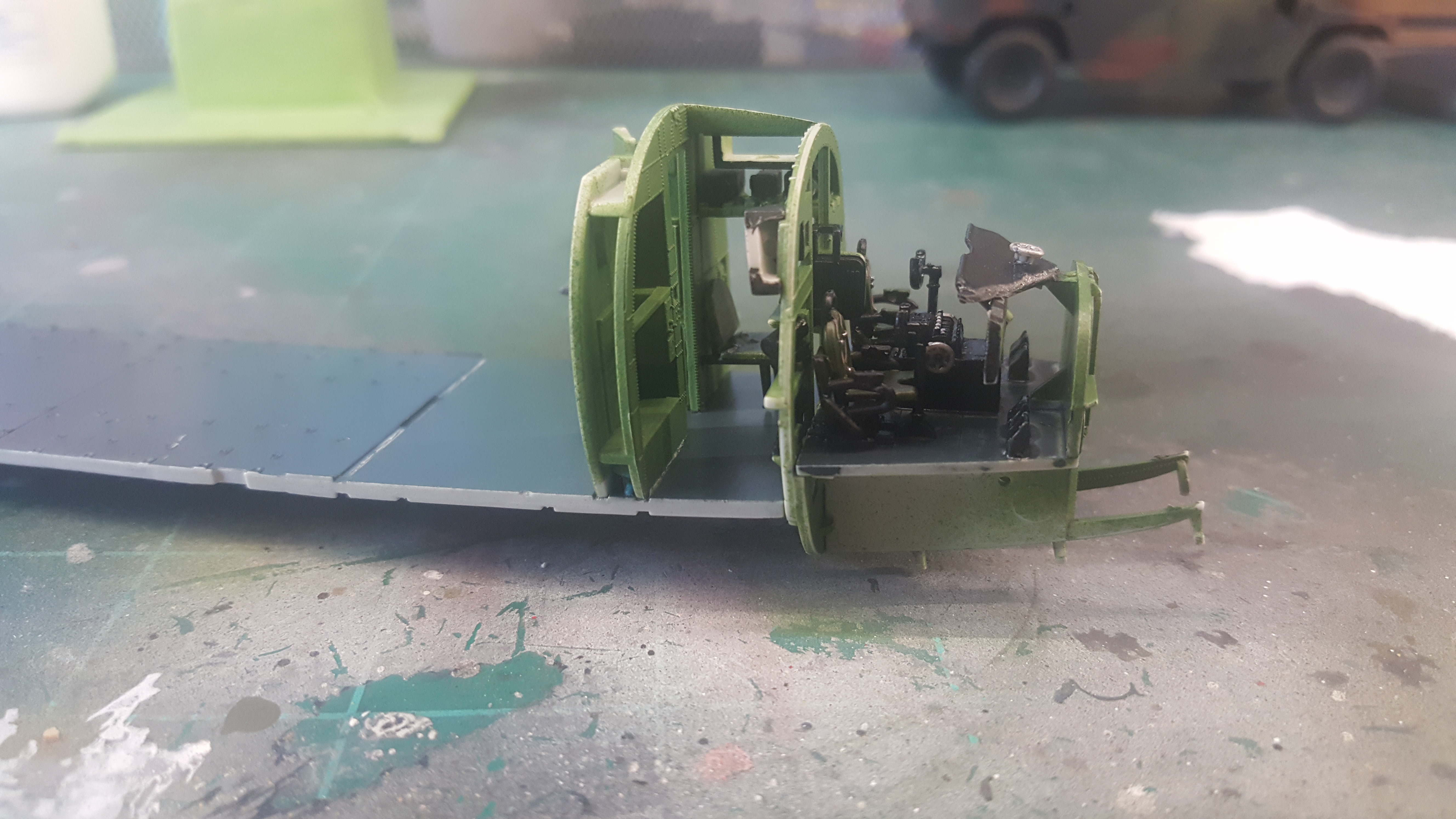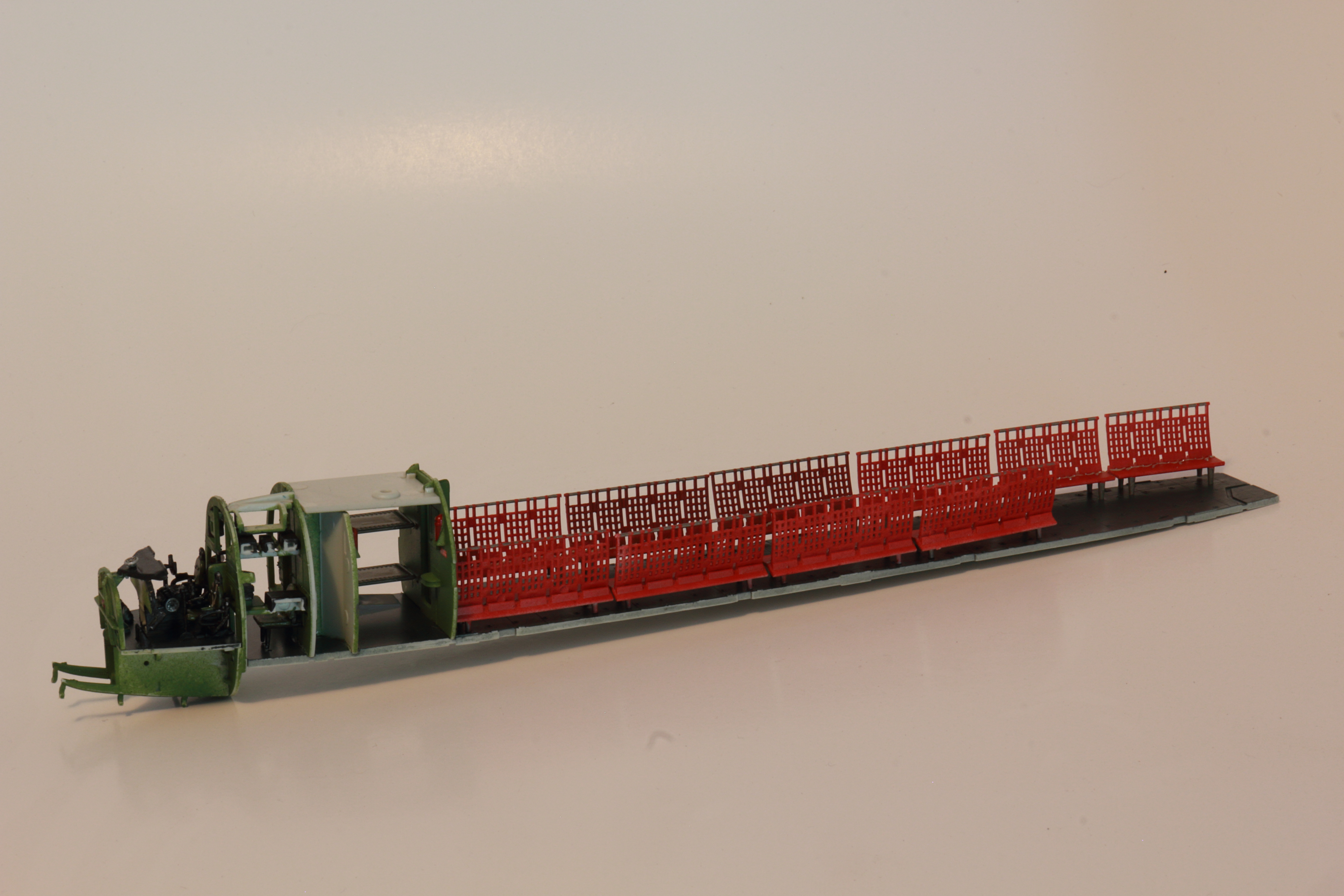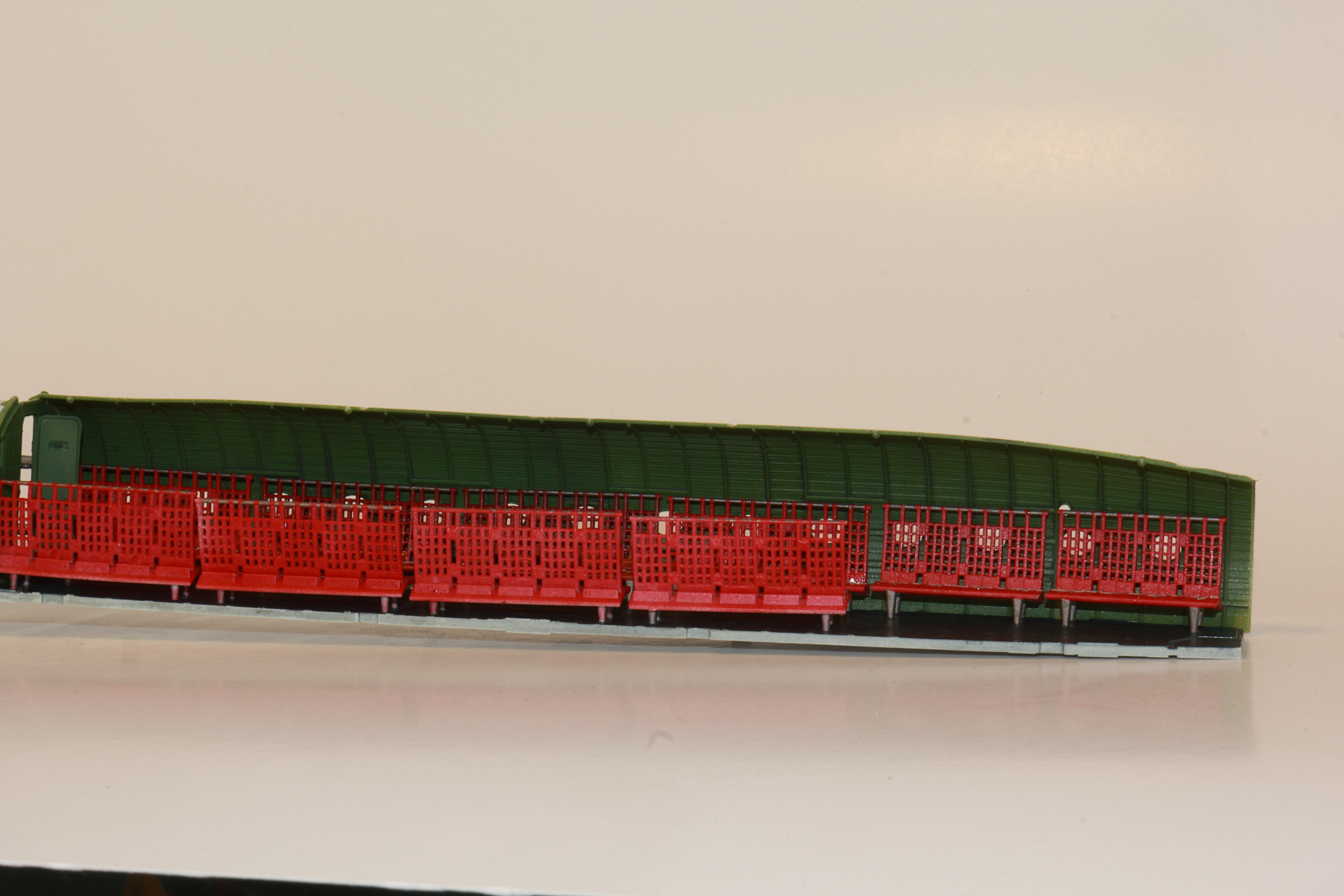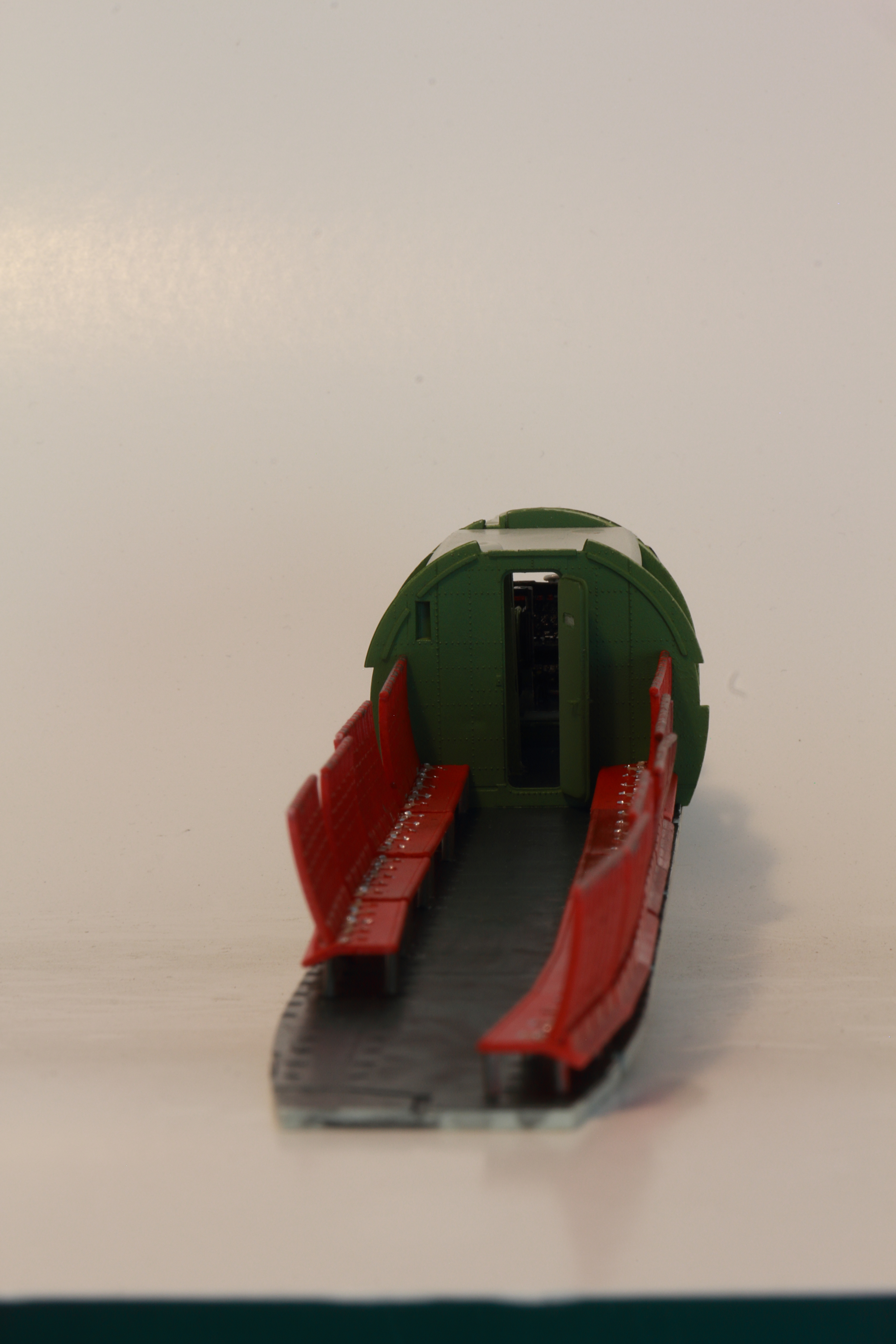 Fuselage
Moving from the interior to the exteior the previous assembly as a 'pod' so to speak was sandwhiched into the final outer shell. Many clamps and rubber bands were used to get this to hold tight and strong, along with much glue!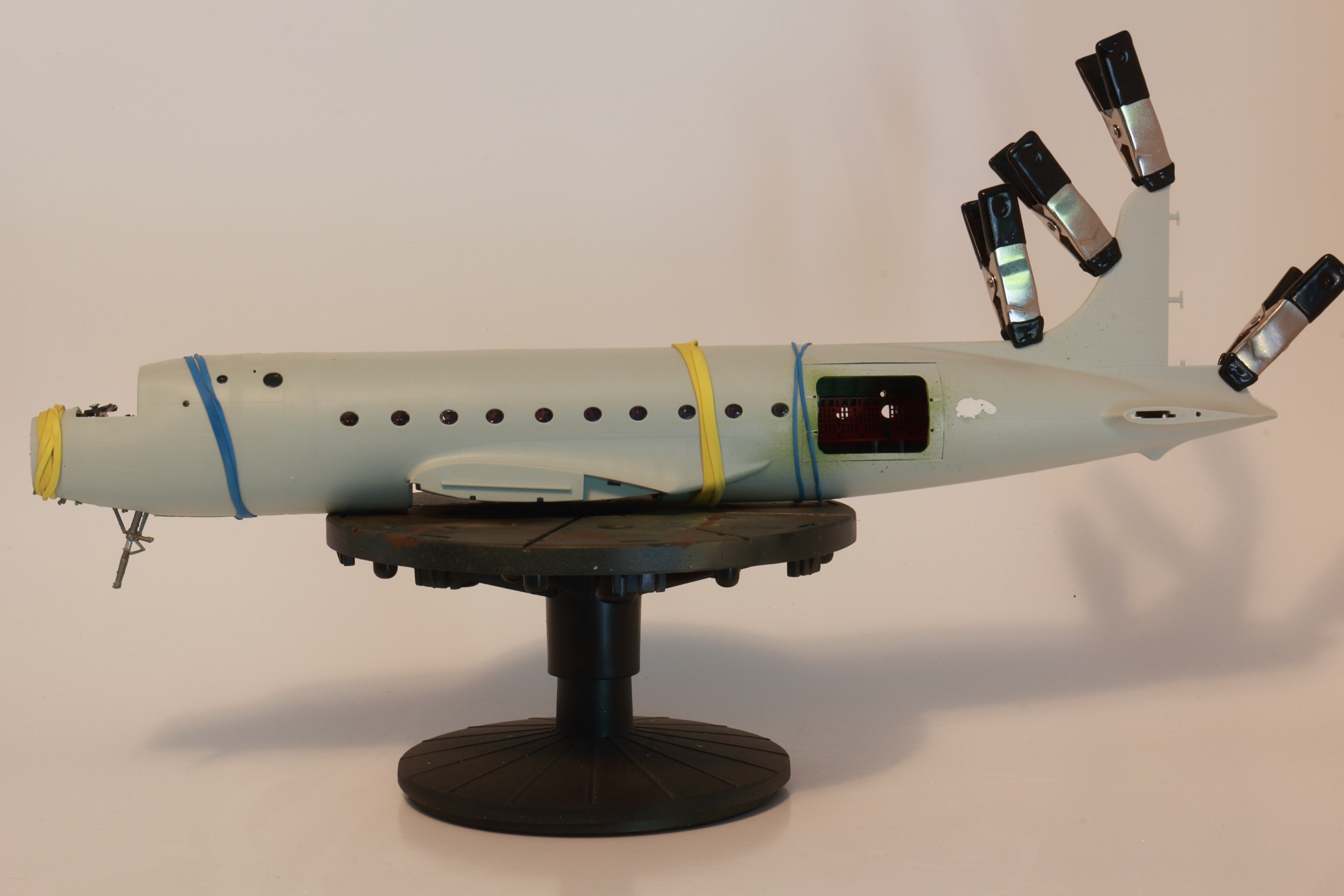 Wings
The wings were made up of upper halfs and one long piece for the bottom that also formed the bottom of the body giving great strength and helped greatly with gaps, not fully as some putty work was required anyways. The wings feature positionable flaps in either fully retracted or fully extended, and ailerons that can pivot on hings, neat! Actually the rudder and elevators were the same way.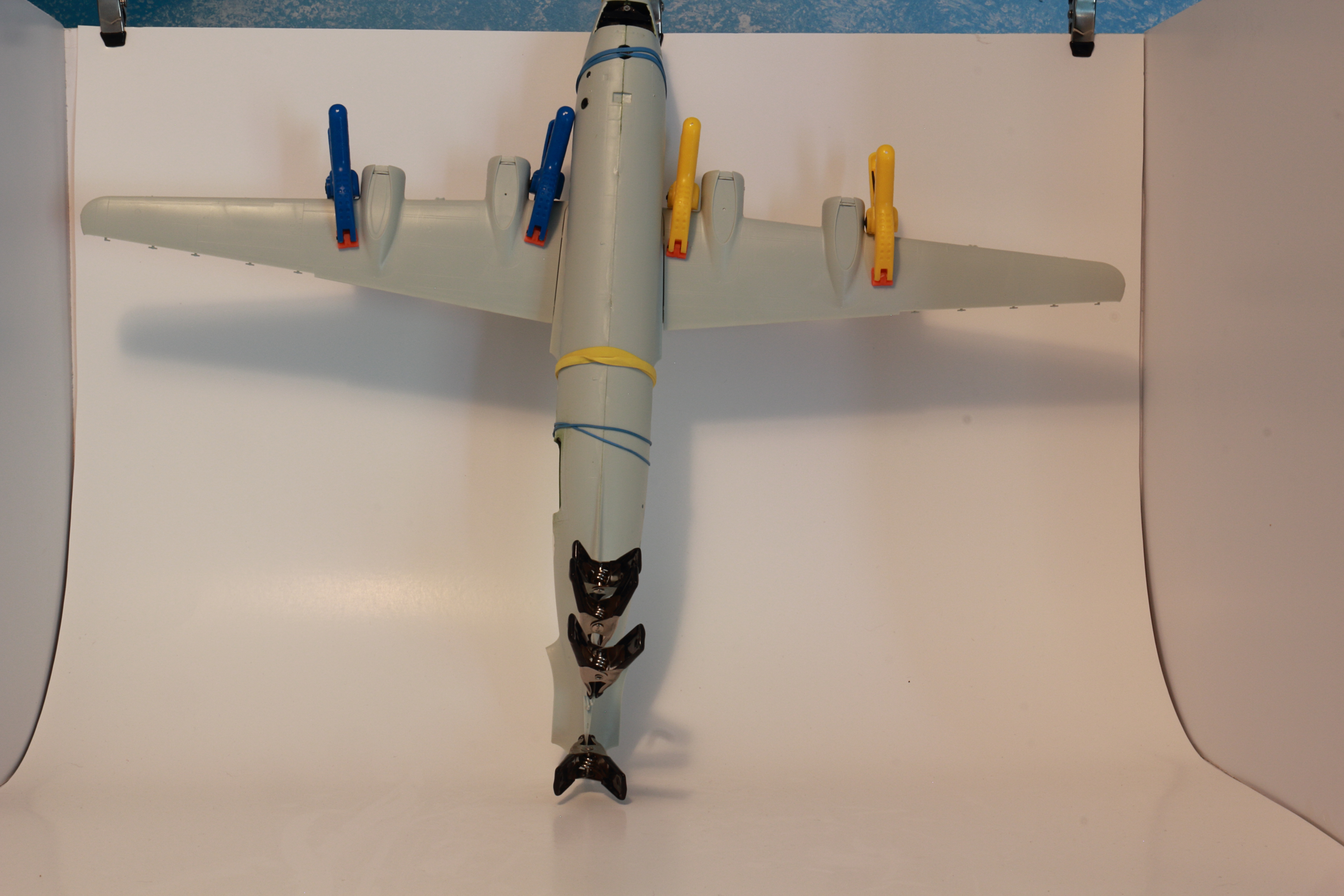 Engines
One thing that really impressed me on this model especially considering the scale was the inclusion of full engines including exhaust pipes. When done these look beautiful. Painting was done on them first with a black base and then drybrushing on steel and rust to give the depth and effect I was after.
Yet again though a lot of this detail was lost in the final assembly as the cowls covered it all over, but you can still get a hint of it if you look.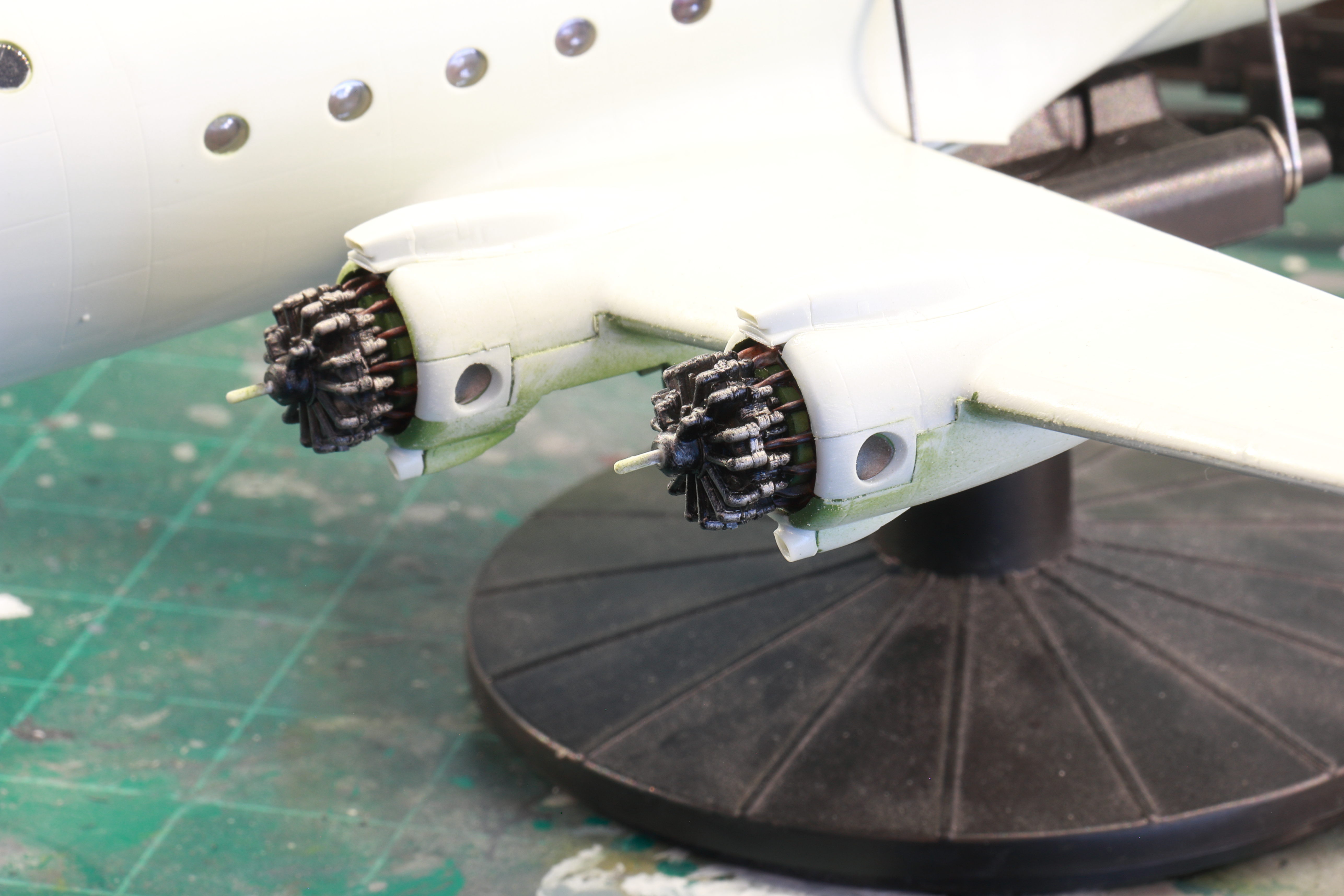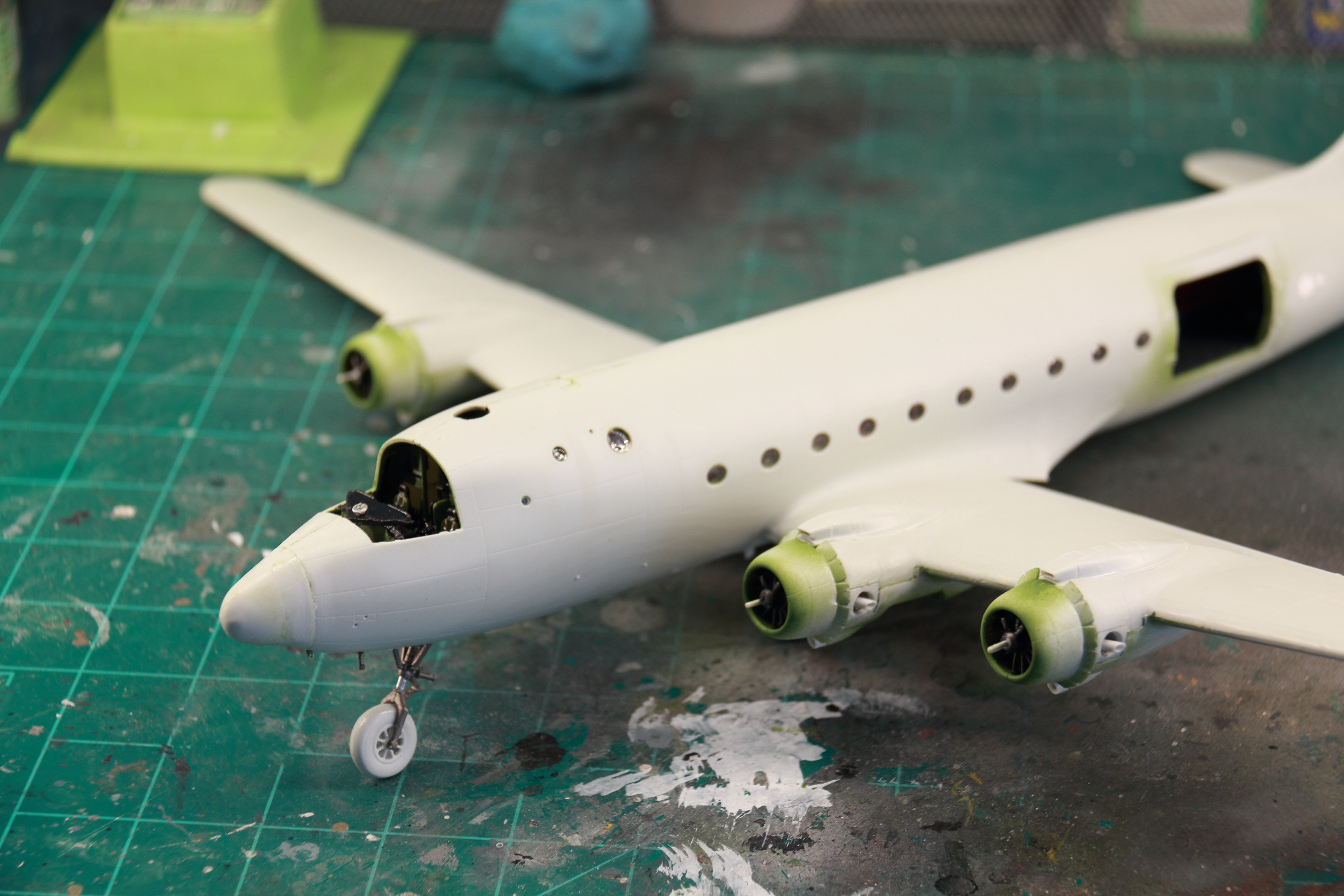 Paint
With all the big players built and put together it was time for this already impressive bird to move to the spray booth, I started out black basing everything, something I'd soon regret funny enough. From there Model Masters Orange and Tamiya X-2 white were used to paint the upper surface of the model and the wing tips and nose. Had I not black based the entire model this process would have required a lot less coats of paint to get good and bright.
Another reason I quickly regretted the FLAT black base? Alclad. I wanted to give it a try on this model and I didn't realize that a flat base wouldn't result in a shine, whoops! But lesson learned for next time.
One of the biggest things I struggled with on this model was the decals, mostly because there were numerous black strips that had to divide different colors and there were no real guide points to define where they should go, so i just went for it and hoped i was right, and for the most part i was!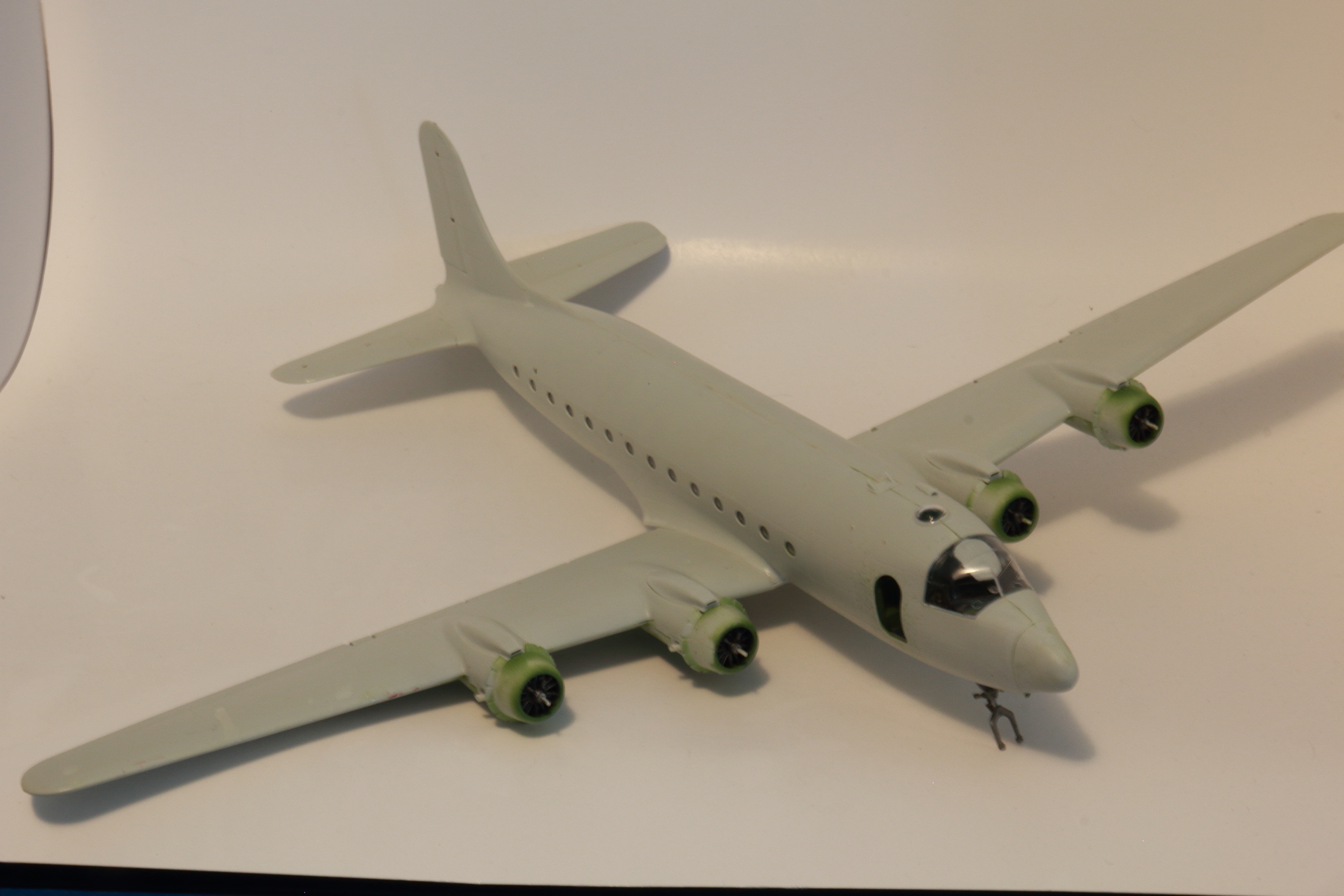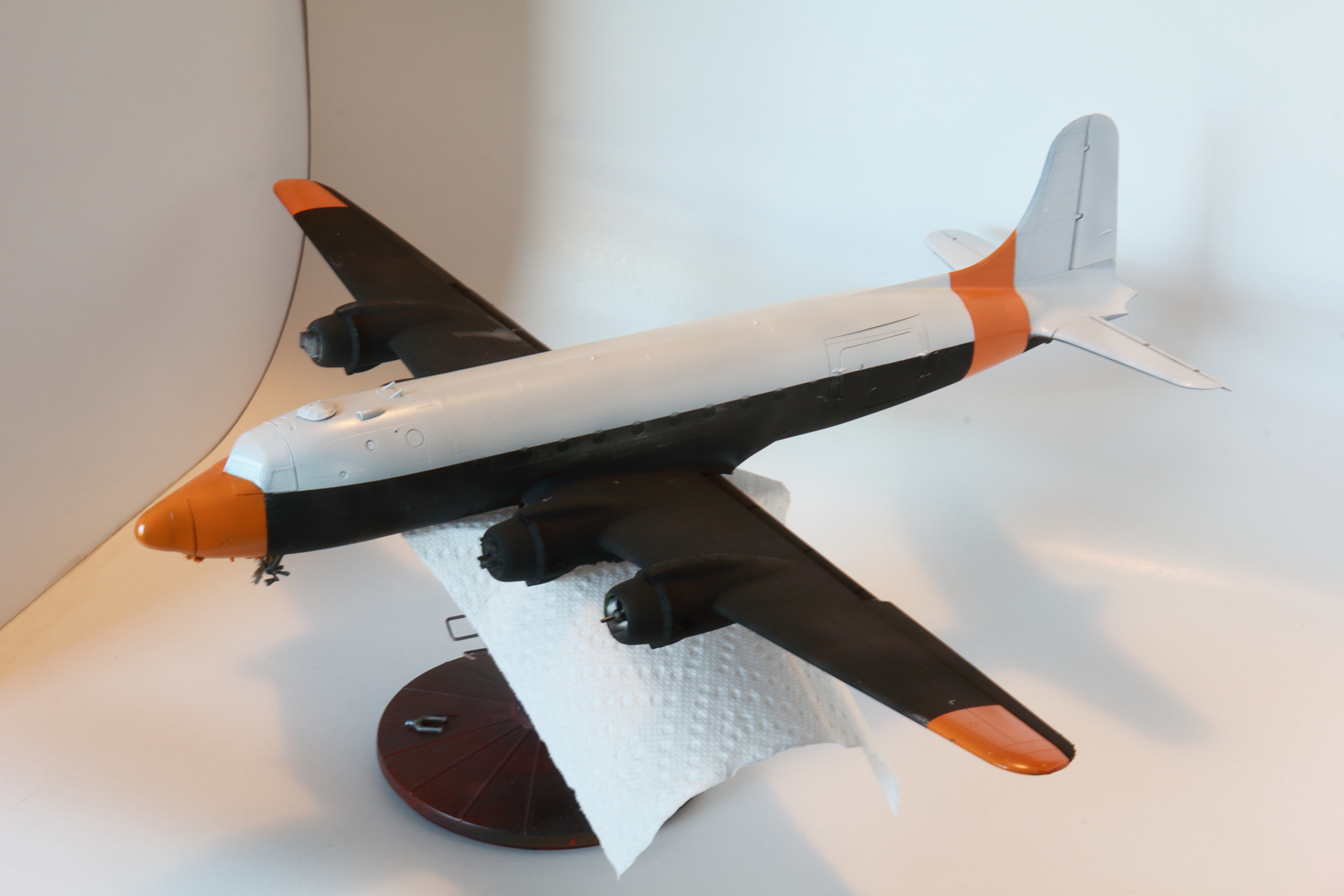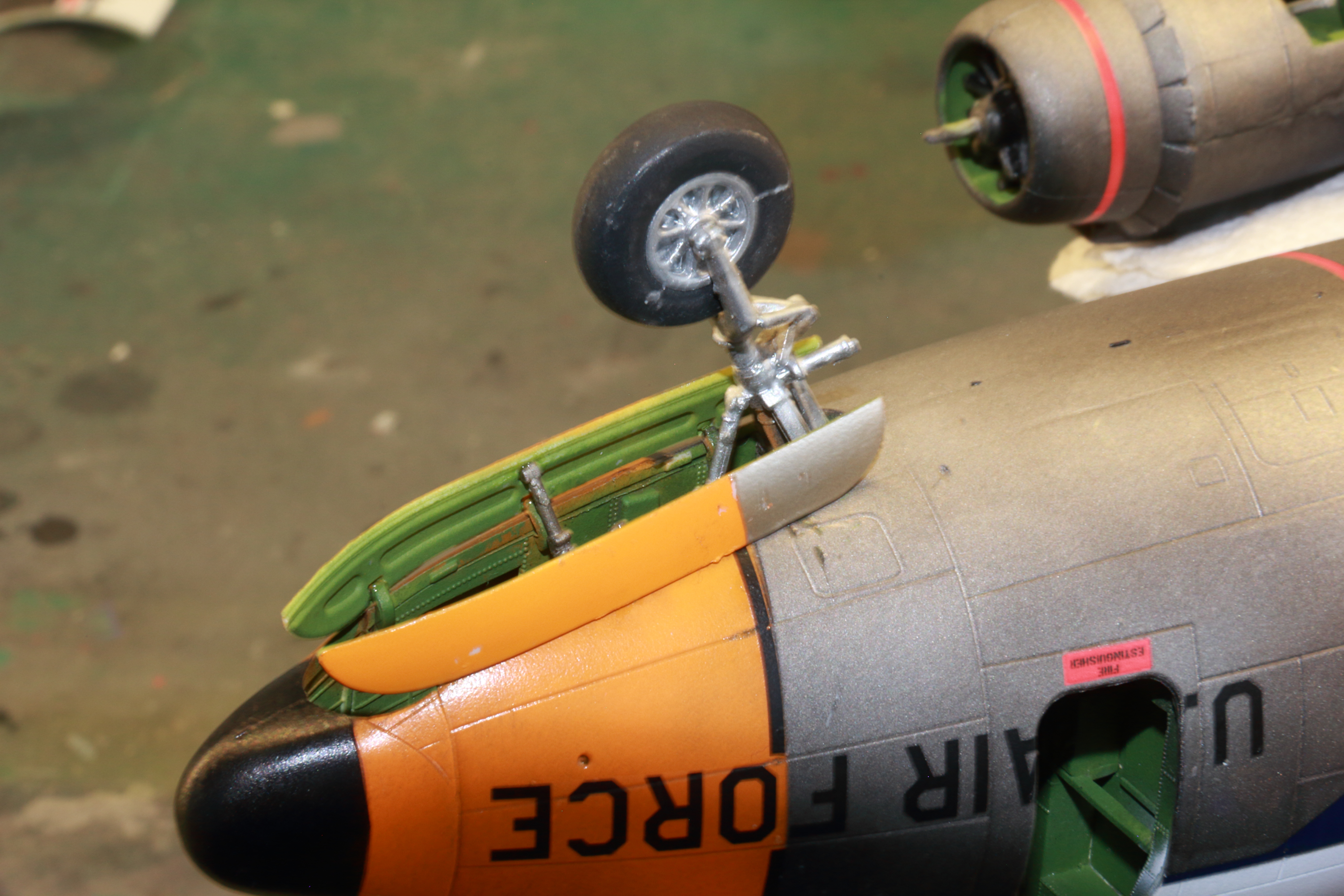 Final Assembly
In the final parts of this build I attached things like landing gear, gear doors, and the various little antennas and wires that go across the top and bottom of this aircraft. The included stand was also needed as I didnt include enough weight up front to keep it from being a tail-sitter, no big deal just would have been nice.
And about that door into the cabin..... Well I was in a hurry painting and had no clue I had the colors reversed till it was installed! So I went with it! My story is it was from another aircraft that was painted differently, you never know! I also chose to leave the cargo door open to allow a peak inside.